"After 100 years it's finally out…


Lost Manual Hidden From Public
For Over A Century Reveals The
Secrets To Almost Instant Change

Give me just 5 minutes a day for the next 30 days and you'll finally know how to get anything you want in life the easy way..."


Health.

Wealth.

Relationships.
&nbsp &nbsp I'm sure all of us could stand to improve in at least one of the areas above.
&nbsp &nbsp Hi, I'm J. Hamilton Kelley. I've spent the past 5 years going over everything I could get my hands on regarding self-improvement. Dianetics, Tony Robbins, Psycho-Cybernetics... you name it, I've tried it. All of these things helped a little. But it wasn't until I discovered this nearly 100-year old book that my success skyrocketed .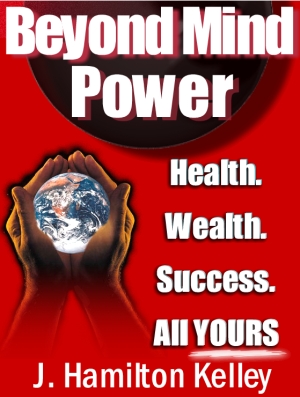 Enter your information below (it won't be shared) to download both volumes of Beyond Mind Power absolutely FREE right now:
&nbsp Let me tell you about my friend. This guy tried and failed at so many ventures we nicknamed him "Hereo" - that's right, he couldn't even spell "heroes" correctly, so he got the nickname "Hereo". Here's what he did before reading this book:

* Received an administrative discharge from the Air Force because he couldn't pass a simple career field skills test

* Opened a "psychic" phone line - and failed miserably due to poor planning

* Opened a sub/hoagie delivery business that he ran from home - it lasted a whole month before going under

&nbsp I was tired of seeing my friend fail. He received a copy of this book from me, and less than one year later he owns a cleaning business worth a fortune.
&nbsp What was his problem? Why did he fail at all the other ventures yet succeed at his last one? He thought attaining success was hard - when in fact... it's easy
&nbsp So easy, in fact, that the "powers that be" seem to have suppressed this work for quite some time. It's been out of print for decades. Only by extensive searching was I able to find it. Have you ever read something and just thought to yourself "Wow... THIS is special"? That's the feeling you will have when you first begin to read this book.
&nbsp Let me give you an example. I was driving a car that was nearly 21 years old. That's right - 21 years. It looked like a big brown piece of something floating down the road. Shortly after reading this book I made it my primary goal to manifest at least enough money within one month to buy a decent car. Instead of reaching my original goal, I made twice that in one month and am now driving a very nice sports car - with no car payments to worry about.
&nbsp Instead of grasping, sweating, and bleeding for success... imagine if it just came your way naturally? This is what Beyond Mind Power is about. It will teach you how to harness the 'energy' that flows through everything and put it to work for YOURSELF, RIGHT NOW. Here are just a few of the things you'll learn in this incredible book:


What Mind Power is, and how to supercharge your life with it - attracting wealth, health, and love
How to develop the charisma of a rock star or famous actor by developing a penetrating gaze - this is easy and has simple instructions to follow!
Using "desire force" to manifest what you want in your life
A simple technique you can use to destroy negative feelings the moment they arise
"Matrix visualization" - a visualization technique taught nowhere else that is devastatingly effective
How to eliminate fear and hesitation from your life - forever
The two qualities you must have in equal amounts to win any battle
Channels of Influence - with these easy exercises you'll have an unfair advantage over anyone you deal with!
The truth about how your thoughts create your outer world
How to focus your brain to eliminate any resistance - even if you don't feel like you can concentrate
An insider method to tapping into a secret source that destroys any obstacle
Why "being yourself" is a scam - this book will help you become your best self, now.

&nbsp Pretty incredible, don't you think? But don't take my word for it. Read the comments of people that have actually read and applied the secrets in Beyond Mind Power:

&nbsp "Getting what you want in life is 90% inner game and J. Hamilton Kelley solidly describes what needs to take place INSIDE THE HEAD so that the world will bow and warmly do your bidding."

&nbsp &nbsp David Barron
&nbsp &nbsp Persuasion Author and Trainer

&nbsp "Any now and then a true gem is handed to us, a treasure in the self-help / manifestation scene. This book is such a rare gem for it is full of powerful advice and offers much more than just an interesting read. Please, do yourself a favor and get it right now. It is no coincidence this book is now manifesting in your life. I am sure it is the mysterious and all powerful higher intelligence of the Universe that steered it your way, so grab your gift now and use it!

&nbsp Later on you will congratulate yourself on your wise and good decision. Simply because it will help you make your wildest dreams come true."

&nbsp &nbsp Karima Begag
&nbsp &nbsp Success and Manifestation Coach

&nbsp "This is definitely a must read if you have any interest whatsoever in the esoteric arts, in magick or in understanding how the mind truly works, not only in the context of the individual but in the context of how the universe functions. This book will help create a new paradigm for you, a paradigm that will radically shift your state of consciousness in a matter of moments (if not immediately).

&nbsp However, there is a caveat: This work is not for those who are afraid of radical change or those who are not willing to think for themselves; if you fall into either of those categories, skip this excellent book. But if you're someone who can think, who's ready for change, ready for a challenge and ready to see the universe (and yourself) in a new way, be sure to read -- and apply -- "Beyond Mind Power."

&nbsp &nbsp Robert Prestridge
&nbsp &nbsp Science and Technical Writer

&nbsp "The amount of user-friendly information found in this book surpassed my expectations. The material presented is a journey through 'hidden' knowledge. Handling problems becomes... easy. This is the sought-after knowledge that only a lucky few know. Soon you will know too!"

&nbsp &nbsp Larz Mentzoni
&nbsp &nbsp Remote Viewing and Chi Gong Practitioner

&nbsp "By controlling your own mind, you can create the life you have always dreamed of and once you do that, you can help others create a life for themselves as well. This book gives you all the information you need to be able to do that. I highly recommend you read this not just once, but use it as a reference and definitely, tell the ones you love."

&nbsp &nbsp David F.L. Smith
&nbsp &nbsp Master Hypnotist, Certified Hypnotherapist

&nbsp "J Hamilton Kelley's new e-book "Beyond Mind Power" is quite interesting and refreshing. It makes you feel as there is a source you can tap into, something that has been there in our minds all along but that most of us have ignored. It is the access into this entity that this particular work is about. Kelley's book keeps you enraptured and wanting to drink every page slowly, so that everything is digested and nothing overlooked. What if we could somehow "soak up" the same powers of the universe that cause an oak tree to grow and use these powers for the strengthening of our mental capacities? This is not something that just comes naturally.

&nbsp Drawing from specialized knowledge from fairly obscure resources as well as research that has been thought out for a lengthy period of time, you feel as if you have been let in on a secret. If you don't want to miss out on some esoteric knowledge that you can really use in a pragmatic manner, read this book, and read it today. Don't wait one more day!"

&nbsp &nbsp Victor Gimmel
&nbsp &nbsp Writer

&nbsp That's just a few of the testimonials for Beyond Mind Power. However, I don't expect you to believe them either. Instead, I want you to try out Beyond Mind Power ABSOLUTELY FREE. All I ask is that you read it, and if you notice positive change in your life, to email me your story. Fair enough?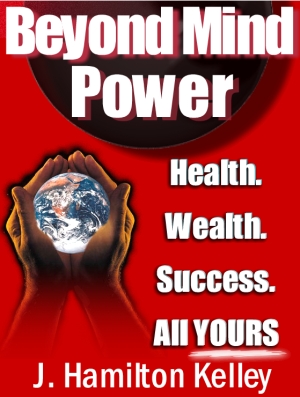 Questions? Comments?
Contact me at: beyondmindpower -at- gmail.com
---
Click here to see many helpful links.
Join our FREE Link Exchange!